A. SCHOOL SECTION
EARLY INTERVENTION PROGRAMME (EIP)

The students are between 4 to 10 years old. Class activities are more focused on improving gross motor skills, fine motor, interaction and communication skills.

FUNCTIONAL ACADEMIC CLASS (FAC)

The students are between the ages 9 to 16 years. Subjects taught are Bahasa Melayu, English. Mathematics, Science, Moral Education, Health Education, Art & craft, basic computer and Living Skill activities.

FUNCTIONAL LIVING CLASS (FLC)

The students are from the ages of 14 to 20 years old. Their comprehension abilities are moderate, as are social interactions. They use gestures, sounds and hand signals when communicating. The activities carried out to stimulate the following senses such as Visual (seeing), Auditory (hearing), Tactile (touch), Gustatory (taste) and Olfactory (smell).

SENSORY STIMULATION 1 (SS 1)

The students are between the ages of 12 to 40 years old. Activities carried out are Sensory Activities, Auditory Activities, Manipulative Skill, Gross Motor Skills, Activities Daily Living, Music, Basic Computer, Story Telling and art & craft. Such activities will improve the overall creativity and increases verbal skill, understanding of the subject, awareness of virtues and improve their attention span.

SENSORY STIMULATION 2 (SS 2)

The students are from the age range of 19 to 37 years. The activities involved are Sensory Activities, Auditory Activities, manipulative Skills, Life Skills Activities and Arts & Crafts. All of these activities contribute to creativity, understanding, focus and awareness of the environment and surrounding.

VOCATIONAL 1

Hospitality class is a new venture to tap the students potentials. The students are trained to enhance and polish their existing self help skills on varies sectors. The aim is to integrate them into the working world in line with their abilities and understandings.

VOCATIONAL 2

The students from the age range of 18 to 40 years. The class activities are related to computer skills (IT) such as finding references on the internet, typing, drawing, basic design and colouring using computer software such as Microsoft Word, Powerpoint and from online software such like Canva and Video Editing programme software like Kapwing.

SHELTERED WORKSHOP

The Sheltered Workshop comprises adults students, divided into groups according to their functional level. Item produced in the Workshop are cross stitch, latch hook rugs, quilling greeting cards, paper gift bag, bookmarks and floor mats.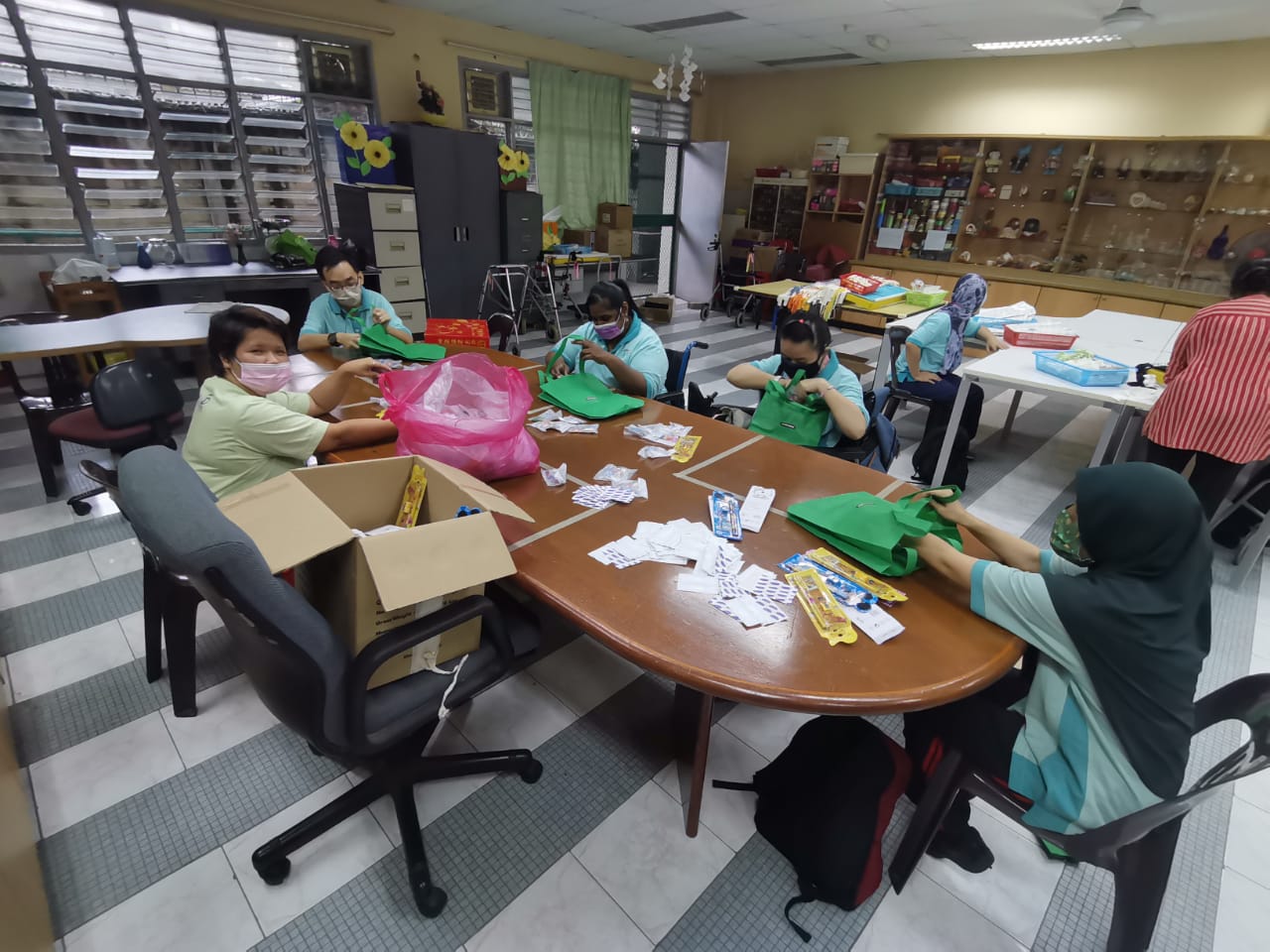 B. REHABILITATION
PHYSIOTHERAPY

Physiotherapy is very important for children with Cerebral Palsy. The treatment plans are individually tailored to suit the needs as well as conditions of each and every child. The Physiotherapy Department here is divided into 2 section. Physiotherapy Paeds for younger children and Physiotherapy Adults for older children and adults.

HYDROTHERAPY is a part of physiotherapy and this treatment is carried out in warm water in the Centre's hydro pool.

OCCUPATIONAL THERAPY

Activity is the philosophy of Occupational Therapy and here, the main focus of engaging children in therapeutic activity is to enhance their performance in self-care tasks, learning and participation in the community. In order to achieve maximum independence in the home and school setting, children with Cerebral Palsy need to acquire the above skills to enable them to overcome or cope with the physical, cognitive and perceptual limitations that effects the way they move, use of their hands and to learn.

MULTI SENSORY ROOM

The Ronald McDonald Sensory Room is fitted with special equipment to stimulate the primary senses of sight, sound, touch and smell of the special child.

SPEECH THERAPY

Children with cerebral palsy may have difficulty swallowing, chewing, mouth closure and tongue movements. These crucial skills are required for vocalizing and eating. Speech therapy focuses on improving feeding, vocalisation and communication.

RIDING FOR THE DISABLED

This therapy is for selected children and is a horse riding programme carried out at the Bukit Kiara Equestrian & Country Resort, under the umbrella of Riding for the Disabled Association Malaysia.
All the therapy services are carried out under the supervision of our qualified and specialised therapists.
We strive to not let any disabled child be left behind...